1
« on: November 01, 2016, 09:04:38 AM »
There was a saying during the Civil War that someone who had an unusual or moving experience had "Seen the Elephant". I've lived a long and very meaningful life by embracing those "Seeing the Elephant" moments. This is a story of my first solo backpacking experience in the Rock Creek drainage several years ago that taught me several things using equipment purchased for my John Muir Trail adventures in the late 50's.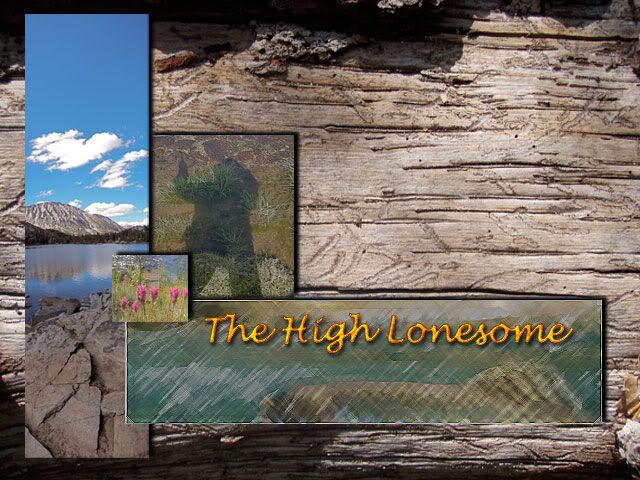 I was supposed to go to the Sierras with my brother for the first time since the 60's when we were very active in backpacking and scouts. We did the John Muir Trail twice in it's entirety and had incredible adventures. The first 3 week trip saw no other hikers other then one Ranger and some mules. Just our 20 member group. This was to be our chance to see how much we have missed over the years. I have been in the back country alot but always in the company of horses and mules or firefighters with tools and hoses.
He bailed on me and I went alone. Me and my 1956 Kelty pack (fitted and purchased in Richard Kelty's garage in Glendale). I had been out once with Eric and MK4 but carried 45lbs and that was way too much. This would be the second time I had lived out of a "ruck" since my two years in Viet Nam (1968-1970) This trip I got it down to 34lbs and learned a lot about what I needed and didn't need. This would be a journey of redemption for me and I looked forward to the challenge.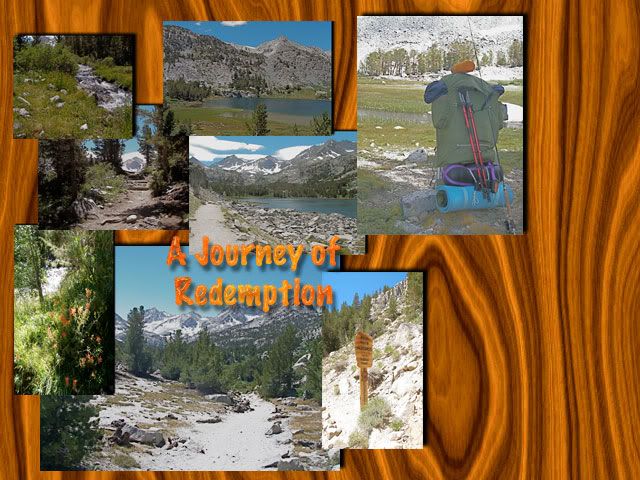 I stopped and got my wilderness permit and started up to my trail head in the sky. At over 10,000 feet, this trail is also one of the most popular in the Sierras and lets a lot of folks get their first wilderness experience. The parking lot was full and that added a half mile but I started off with a swing in my step. My son insisted that I carry one of those SPOT devices and it actually worked pretty well. I had everything I needed for three days and two nights. I carried my fly rod so strapped my hiking poles on the back with bungie cord. I would use the poles mainly to support my tarp. The plan was to stop frequently and catch fish in the creek that paralleled the trail and in the many lakes that dot the region. The scenery was spectacular....the sky as blue as I remembered it and flowers filled the little pocket meadows. It was a good day to be going into the high country.
I fished and caught Brookies all the way up to my high country home for the next three days. None were very big but all had the hearts of twenty inch fish as they skittered across the tops of the water. I made it to my destination without incident. I wasn't winded although it was almost eleven thousand feet. I found an isolated spot....hidden amongst the trees and with a 180 degree view of the lake. I was close enough to hear the fish jumping all night long but could see nor hear anyone else. It was pretty cool. I set up my tarp and put my ground cover (tyvek) and 20 degree Mummy bag inside ready for use. I set up my "kitchen" on some rocks and went exploring. Weather was as good as it gets and I never got a single mosquito bite. I saw them...heard things buzzing but never got bit once.
I fished the lake to no avail other then one 3 " Brookie fingerling. I tried everything in my box but no joy. First cast into the feeder stream and we were in for a fast ride! I caught fish after fish after fish with dries..Ants and Adams. It got so repetitious that I cut the tips off my hooks so I wouldn't have to reach down and handle them. If the fish was going away from me, I got a pretty good fight. If they were coming at me, a couple of tugs. I explored my little section of the world for several hours and made it back to camp to start cooking dinner.
I've been doing a lot reading and practicing with how I would eat out here. I adopted Eric's Kooosy and made a foam/aluminum one that fits a one quart freezer bag. You put your food in the bag....label it and it goes in the Bear canister. I boil a pot of water....add the right amount to the bag in the Koosy and wait 20 minutes for it to hydrate and cook. I took entirely too much food and had trouble eating most of it. The Starbucks Instant coffee about choked me and I will boil some next time I go.
My Trianga stove would boil one pot of water on a filling and worked well for what I was doing. My Pocket Rocket would boil two pots on one bottle and is either full on or off. I had to use the Trianga with a reducer to make my biscuits each morning. They turned out pretty darn good with liquid margarine and honey! I cut the bottom out of a one gallon milk jug and it carries all my kitchen stuff and doubles as a wash basin for dishes and me. It worked well. All in all....I ate all that I could and most was really good stuff. I've eliminated the stuff that didn't rehydrate so well. Cooking at almost eleven thousand probably played a factor in some of the rehydration issues.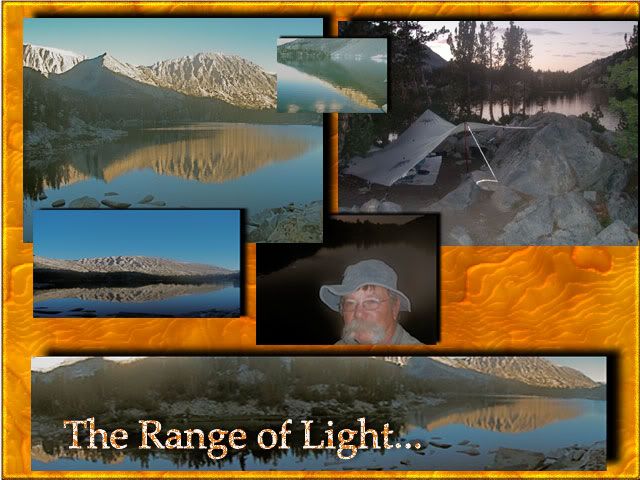 The beauty of this place was it's isolation and quiet. I never heard a human voice in my camp although there were folks there. The light show that the mountains put on was humbling and one that I could not capture with my point and shoot. I did find myself wishing that I had brought something to read as I don't normally get sleeping until much later. Laying in my rack that night, I heard Great Horned Owls with their distinctive call and a pack of Coyote serenaded me as the moon came around one.
The really interesting part was the earthquake that rumbled through around five am and send boulders moving and scratching. I remembered the sound from an assignment in Forest Falls once where the rocks cascaded off the mountain tops during aftershocks. I slept well both nights and enjoyed my secure shelter.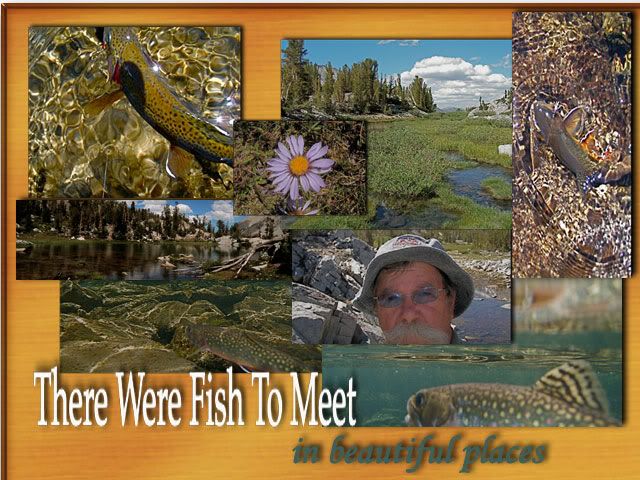 I came up here to fish and fish I did. I fished for ten hours on the second day and explored my world. There were Brookies that were eager to take pretty much what you had to offer. They are great fun. Once again, I cut the tips off to reduce handling time and had a ball. How many did I catch? I quit counting. I would purposely tie on a large Stimi or foam hopper to dissuade the smaller guys but nothing stopped them. They wanted to eat whatever I threw out. Now this is something I could get used to. I met a number of folks at some other locations much higher up the mountain and they were always amazed at the sheer numbers. It was simply a pleasure to be on this pristine water with these eager fish and just me.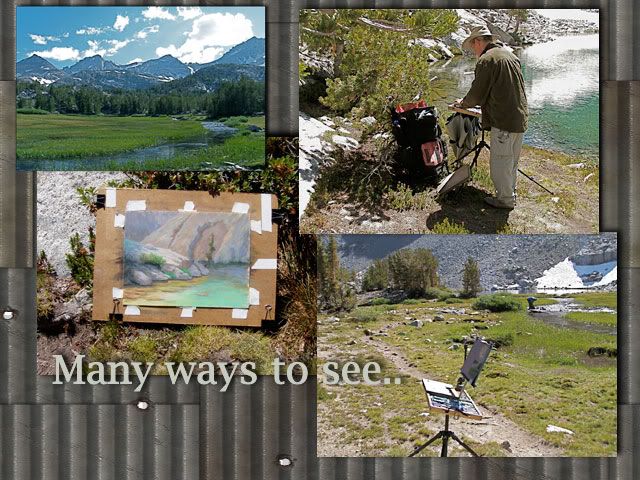 These are some of my artist friends that come from San Francisco each year to paint and draw for eight days. I never once heard a peep from their camp scattered in the trees. They would be up a first light and then at sunset. They were all professionals and all had different disciplines. Very nice folks....good stewards of the land
boy, were they good!
I've loved Spam for a long time. My mom would ship it by the case to me in Viet Nam. It's good stuff! I had it once a day. I used Biscuik for my biscuits and they turned out well. Mix them in the bag...pat them on the outside of the bag and bake in my little 6 inch Imusa Rice cooker. Basically a pan biscuit but really, really good in the back country. The folks at Kelty gave me some new straps when they heard how old my pack was. Good folks who still stand behind a product almost fifty years later. I am very please with the Kelty NOAH tarp I bought. Very versatile and I use elastic cord on my guy ropes to keep the fabric tight and still able to stretch in a gust.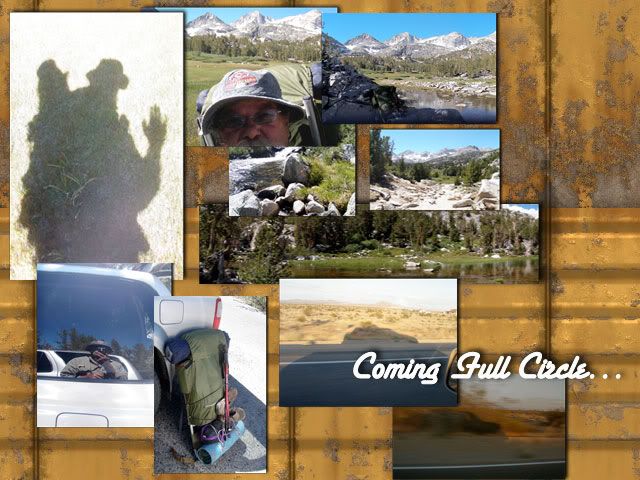 Finally, it was time to police my camp and leave no trace and head down the hill. I must have talked with a hundred people who thought that I must know about the:Trails, the lakes, the fishing, the bears and where was the pass? I actually did know all that as I had been to most and studied the rest. One group was crestfallen when they told me their destination off the piste and I said, "There are Goldens in there". I handed them the fish distribution map I carried which showed all the types of fish in each drainage. I did talk with some very nice folks.
I felt great when I made it back to the car. I had come to the the High Lonesome by myself and ended up surrounded by people. I caught a ton of fish. The beauty of the place took my breath away. My equipment worked great and I learned a lot. As I drove the long and winding road, I reflected on that this is were I really want to be at this time in my life. Being retired has given me the opportunity to explore this great area once again. I had ridden the "big circle" and now was headed home as shadows grew long. I look forward to another trip with my friend, Tom Sakai shortly. Life is good.
Added Note:
I will close this thread out with something that happened to me and my Kelty pack. I never expected it and never would of dreamed of it in a million years.
I've shared that this pack was purchased in the 50's by my parents when our Scout troop went and bought 20 something of them for the Scouts going on the John Muir trail. It was a huge improvement over the wood frame and Scout pack that we were carrying before. Somewhere I have a picture of trying it on for the first time with my flattop hair cut and jeans folded up. It was something that set us apart as serious hikers and we just about burst with pride the first time we saddled up on a local hike. My Dad, Brother and I all got one for the price of around $26 each....quite a sum in those days.
I had pulled into the parking lot expecting it to be full and a space opened up for me. After thanking the folks, went about the business of getting ready to do final operational checks and head out. My mental check list was almost complete when I heard someone ask, "You gonna be able to carry all that stuff in that old Kelty pack?" I turned, not quite sure of how to take the remark and found a tall, distinguished gentleman in hiking gear who put his hand out and said, Hi, I'm Richard Kelty and this my sister. Mom will be up tomorrow. We come here every year to visit my Dad."
I was floored. He went on to validate the age of the pack by various features that hadn't been used for years. We chatted about the history of the pack (Two complete JMT's and a number of 50 milers in our local mountains). I tried to tell him just what this pack meant to me. It was more then a piece of metal and nylon...it had strength, character and had taught me a lifetime of lessons that stood me well in the military and fire department. Because of the pack and the trips we took together, I had been given the gift of adventure, taking achievable risks, the lesson of leadership and responsibility, being part of a common good and having a common goal and knowing that we all have a purpose and place in this life. My Dad and our Scout leaders spent hundreds of hours each year insuring we learned these lessons. I wanted to share how important his Dad had been in getting the world "out there" in ways never thought possible before his innovations and now millions enjoy the products. I was moved by the fact in the grand scheme of 6 degrees of separation....I had gone to his home in Glendale to be measured for the pack frame when he was about nine years old. Fifty years later,his family had come to the same trail head I had on the same day ...they had found a parking space at the same time I did (almost never happens) and he had walked by my vehicle just as I was leaving and saw the pack. Now that, friends is either pure circumstance or there were other forces working. I like to think that we were destined to meet. We shook hands and took a picture and headed up the trail. Where they were going has been special to the family since they were kids and now is a special place for me.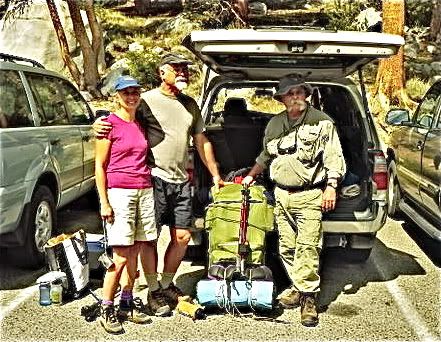 That night as the thunder rolled through the valley like a thousand kettle drums pounding their beat up and down and lightning rattling around the peaks and dancing off the peaks up high, I said a silent prayer thanking my Dad, my Scout leaders and Richard Kelty,Sr for giving me the tools for such a good head start on life.
Like Richard Kelty, Sr, my Father asked to be placed back on the High Lonesome places he loved so much. He always told me I would never stray far from them. Every time I look at the mountains out my front windows here at the ranch, I remember the bouncy flight in a Piper Cub on a stormy Winter's day in 1974.
I made it back up there, Dad....just like you said I would.