26
« on: November 20, 2013, 01:08:43 PM »
I believe I shared this fishing day trip once before on the old boards, but it's worth looking at again. I come up here every year and probably fished this pretty alpine lake 50+ times over the years and never been skunked here (knock on wood and no disrespect to bj's last outing). It's a tough hike but I would rate it one of the best short hikes you'll likely to find in the Eastern Sierra, not just for fishing but also for the pristine views. More people hike up here for the views than for fishing, which is great for us fishermen!
Gardisky Lake
Date: October 20, 2013
The Basics:
1.3 miles (one-way)
840 vertical feet
Starting Elevation - 9760 ft.
Gardisky Lake Elevation - 10515 ft.

Directions:
Leave Hwy 395 at Hwy 120. Follow Tioga Pass Road toward Yosemite. Turn north onto Saddlebag Lake Road and go approximately 1 1/4 miles to the trailhead parking on the west side of the road.
A Little History:
Gardisky Lake got its name from Albert J. Gardisky, who first came to Tioga Pass in 1914 as a miner looking for his fortune. He built Cabin 1 (Tioga Pass Resort) that year, and began mining and trapping. Gardisky quickly learned, however, that he could make a better living providing food and shelter to the growing number of travelers crossing through Tioga Pass. The Lake was named in his honor.
Gardisky Lake Trailhead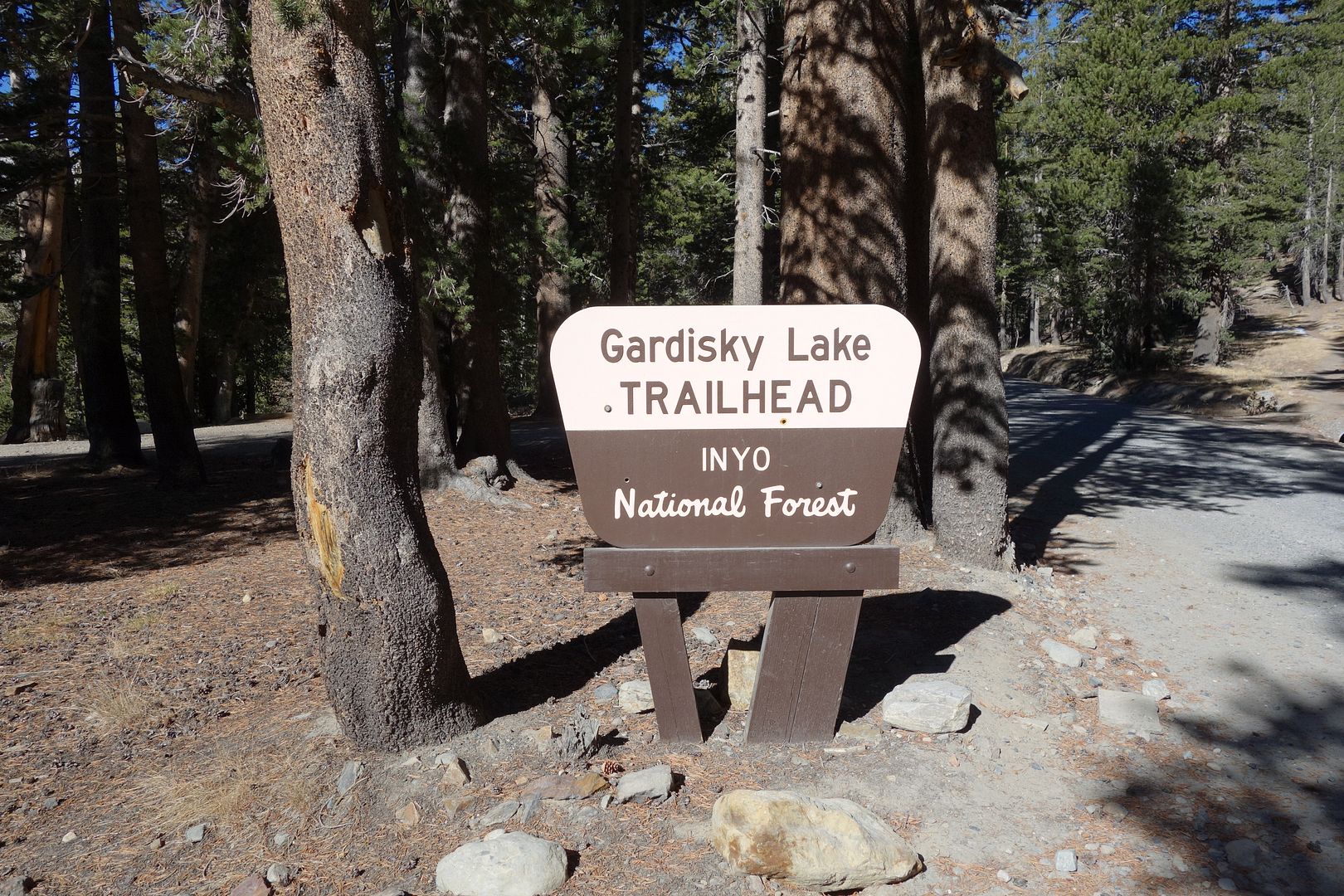 Gardisky Lake is an alpine gem, straddling the Tioga Crest above Saddlebag Lake, and though the hike to its shores is short, it is steep enough in places to give hikers a feeling of accomplishment. Grand alpine scenery and 30-60-minute access to a lovely alpine basin combine to make this trip one of the best short hikes in the Eastern Sierra.
It was a nice sunny afternoon, but a cool day as I rolled into the small dirt trailhead parking lot. There's space for about 8 cars here, and there are two other cars already parked here.
It was a chilly hike, and much of the beginning of the hike is in the shade of the forest. On the other hand, it is steep. Incredibly steep! So you heat up quickly!
Hoover Wilderness
In any case, suffice it to say that it's a steep slog up this dusty trail, basically following a fast-flowing creek. The trail starts on the right side of the creek, but after a few minutes' crosses it. The trail continues its unrelenting steepness. As I climbed higher I started to get views of the mountains across the road.
Steep Climb
Views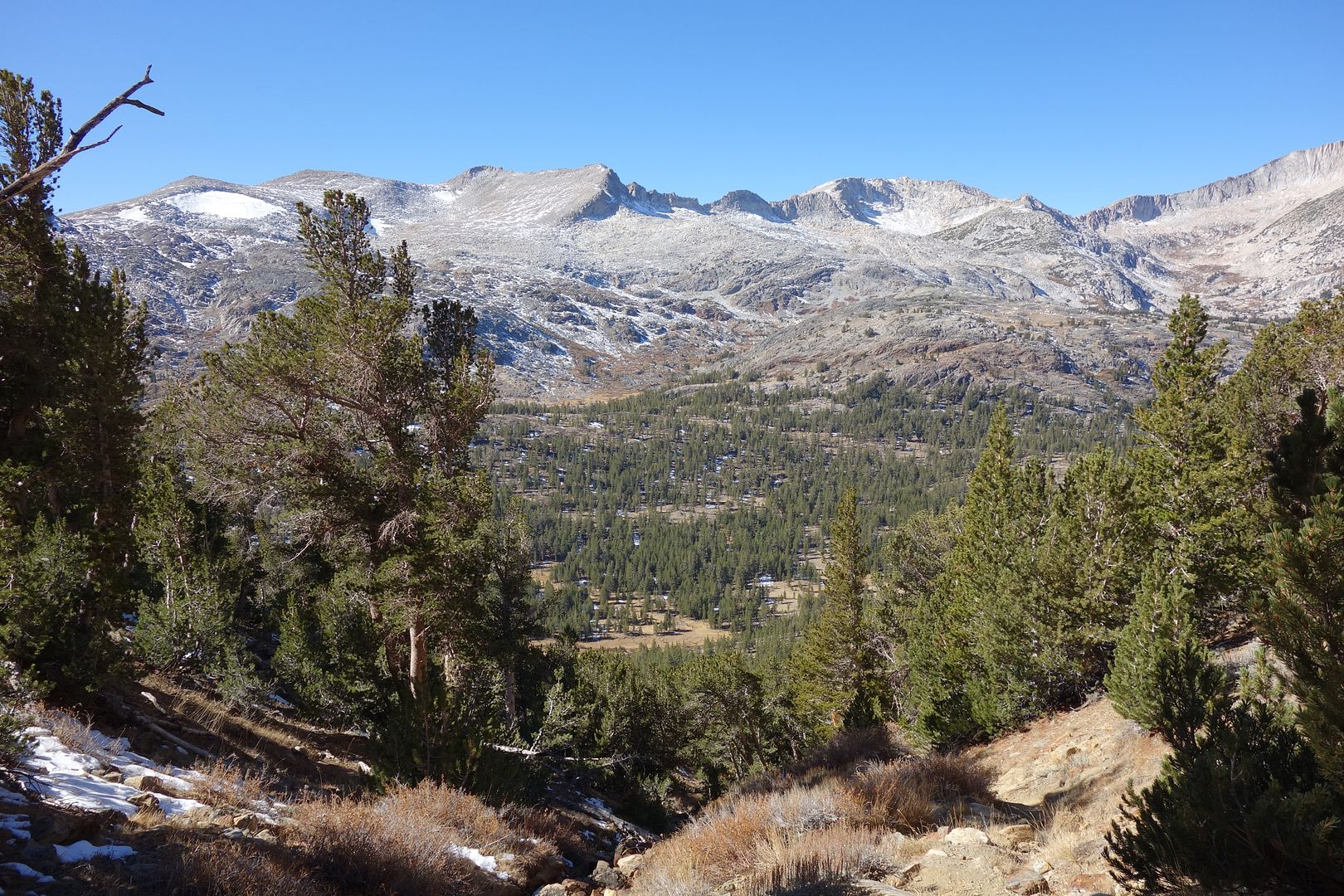 Great views continue to open up as you climb up, stretching past the towering cone of Mount Dana to the Kuna Crest in the south, and westward across upper Lee Vining Creek to the gleaming white granite of the Sierra crest. Views of the 12,000 foot White Mountain, 12,590 foot Mount Conness, and the east face of 12,242 foot North Peak can be seen from here.
Mt Conness & North Peak
There are a lot of small switchbacks when finally; I crested out of the forest into a large grassy area with wonderful views to the west of the snow-covered mountains.
View Towards Tioga Peak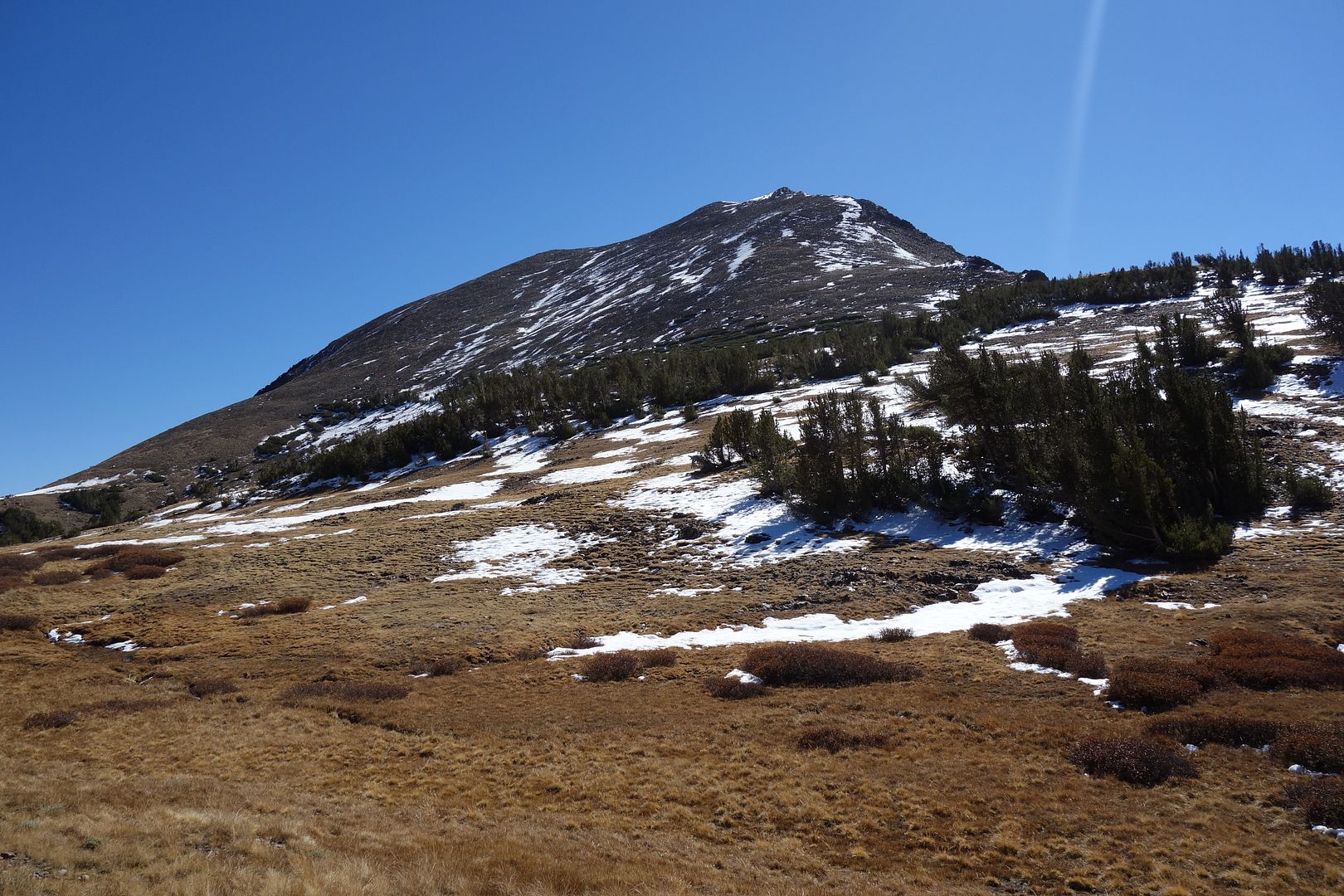 You're not done yet, but the hard part was over. You now had a gentle climb the rest of the way. The trail was now straight, with no more switchbacks. Never saw another hiker on the trail so far, but that's normal for this hike. This was in great contrast to the hordes of people in my Saddlebag Lake hike yesterday.
I crested a ridge and could now see a couple of small ponds on the right. Over the next ridge Gardisky Lake came into view, and what a beautiful sight it was!
Gardisky Lake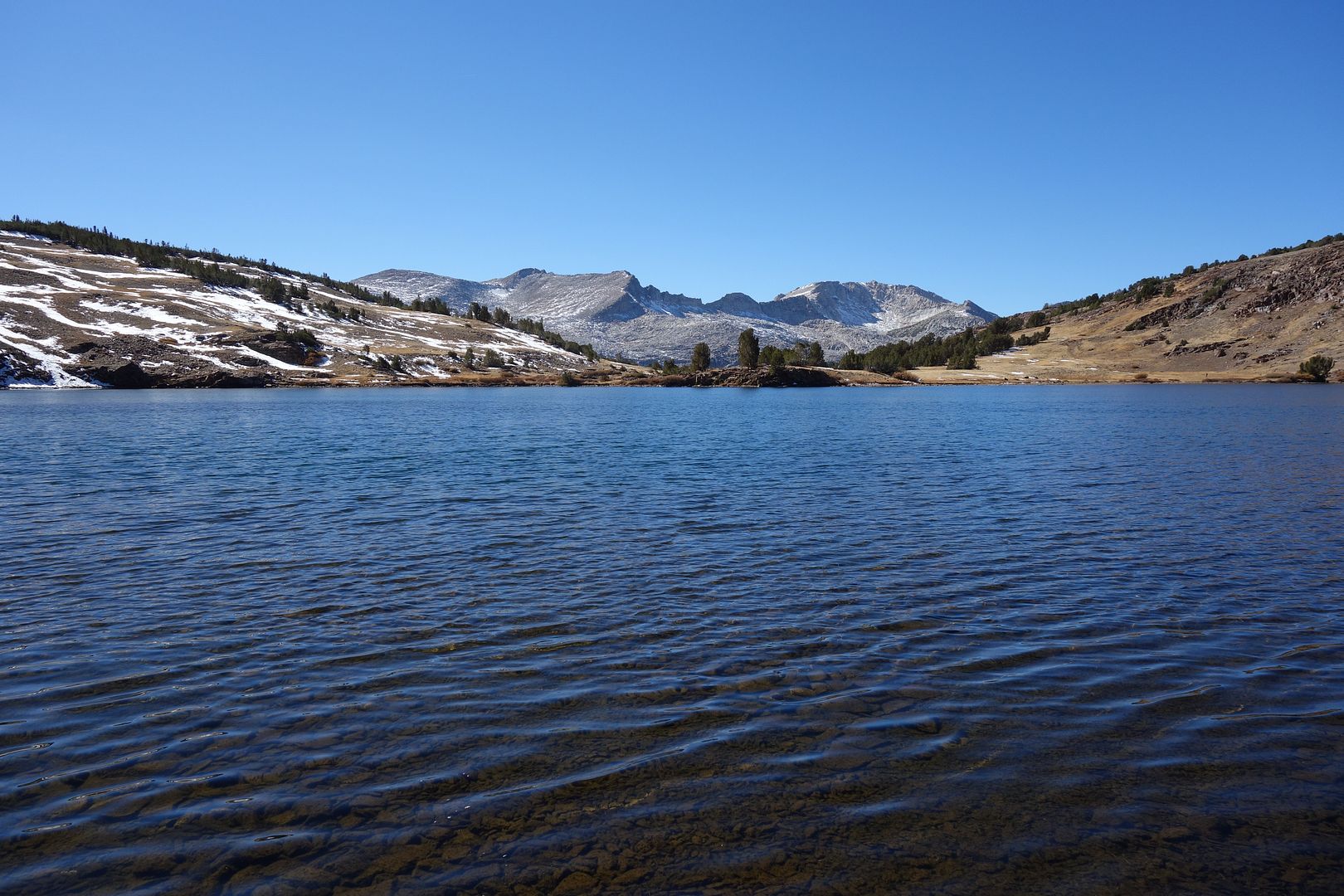 The lake has a population of brook trout, so take some home. Best place to fish is from wherever you can throw your line in. Most people who fish will head to the right where the deep water lies. #16 fly should work wonders here. My favorite's flies to use on this lake are Caddis, Nymphs or Midges. Using a dry and a dropper can be productive. I catch less fish on a dry fly but it's so much more fun.
The northern shore of the lake is open, grassy, with not much in the way of shade from trees. I could see a group of people on that side, having a picnic. No one is fishing so I have the lake to myself (fishing wise). I continued along the lake shore looking for any sign of fish activity, and there is some, but under the ice. About 200' of the shore line was frozen on the west side of the lake.
Ice on Gardisky Lake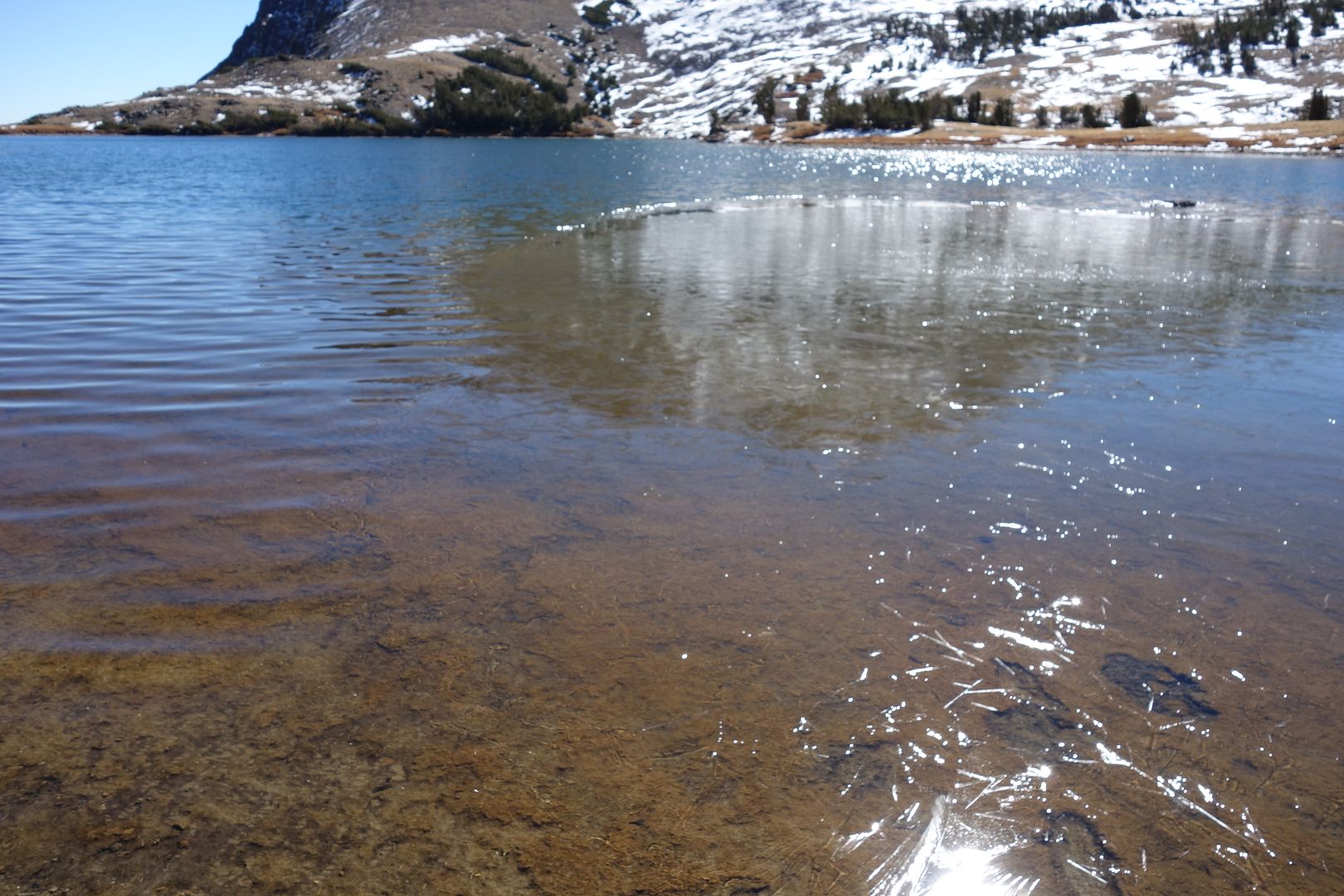 Now that I stopped hiking, I started to get quite cold, as there was a slight but incessant cool breeze coming in from the west.
Gardisky Lake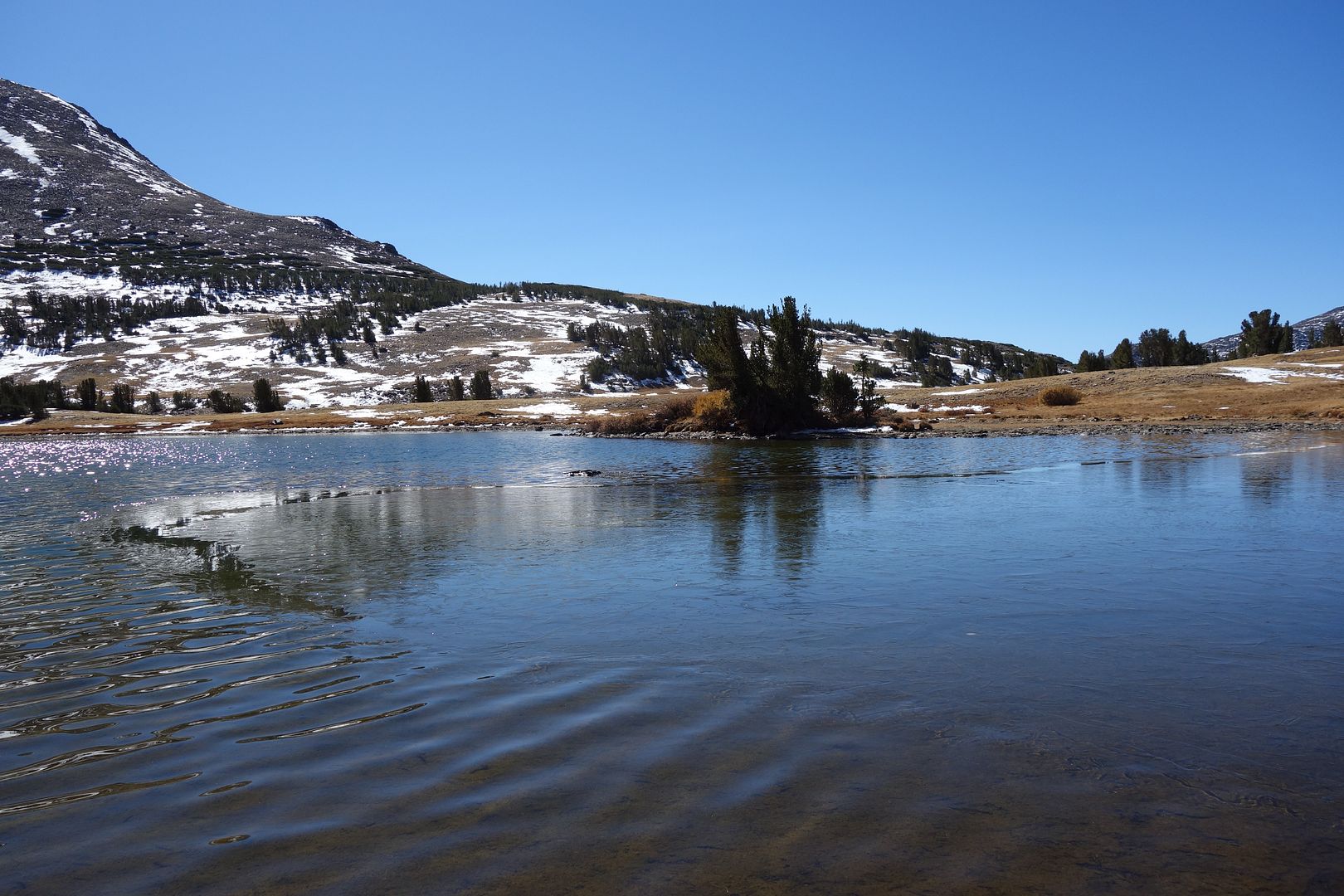 I moved around the lake and found an ice free area to fish. No sign of activity so I start with a dry fly with no luck. I'm a sight fisherman and fishing blind is never been much good for me on dry flies. I change to a wet fly and add a spilt-shot to get it down deeper and that did the trick. Fish on!
Fish On!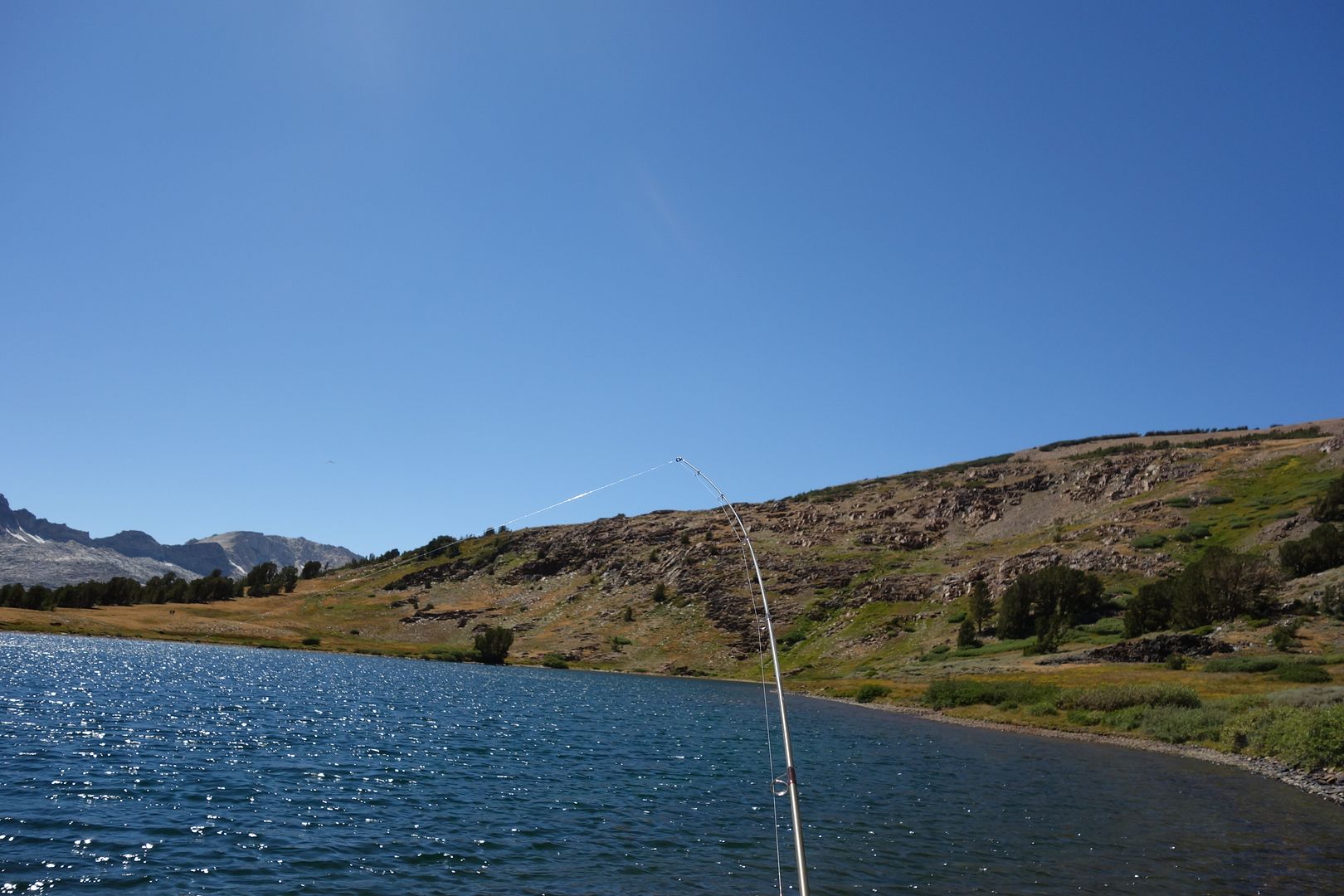 Brookie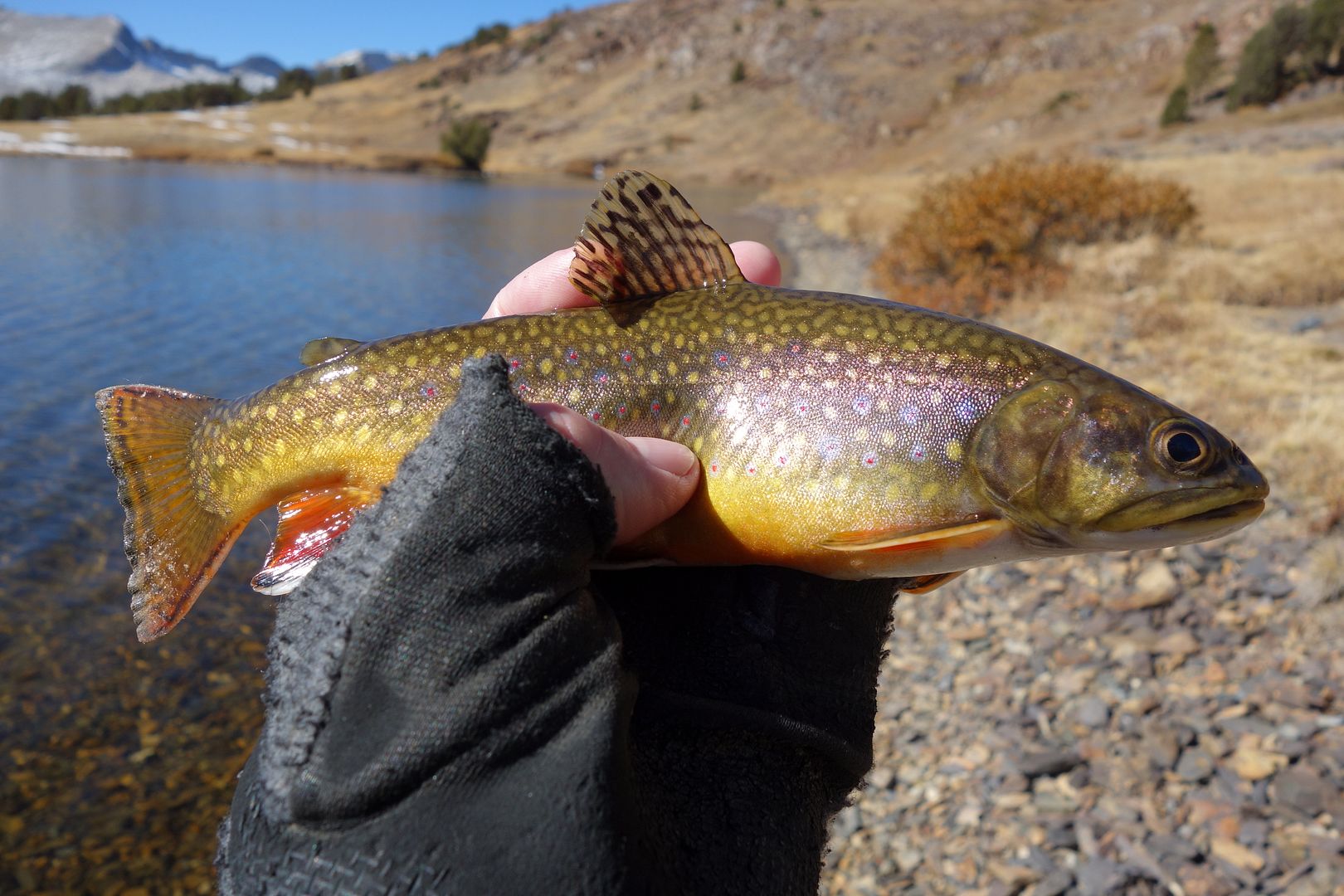 I run into a father and son hiking around the lake and we chat as I'm fishing. I meet the nicest people in the backcountry. Their more excited than me as I bring in another brookie and have an hundred questions on fishing and "wished they brought their poles with them". How many times have I heard that statement!
What they were there for was to hike Tioga Peak and wondered if I knew the best way up. I point to where there is a nice hiker use trail up to the peak. I have climbed up there more than a dozen times over the years and it always is a breathtaking view.
Tioga Peak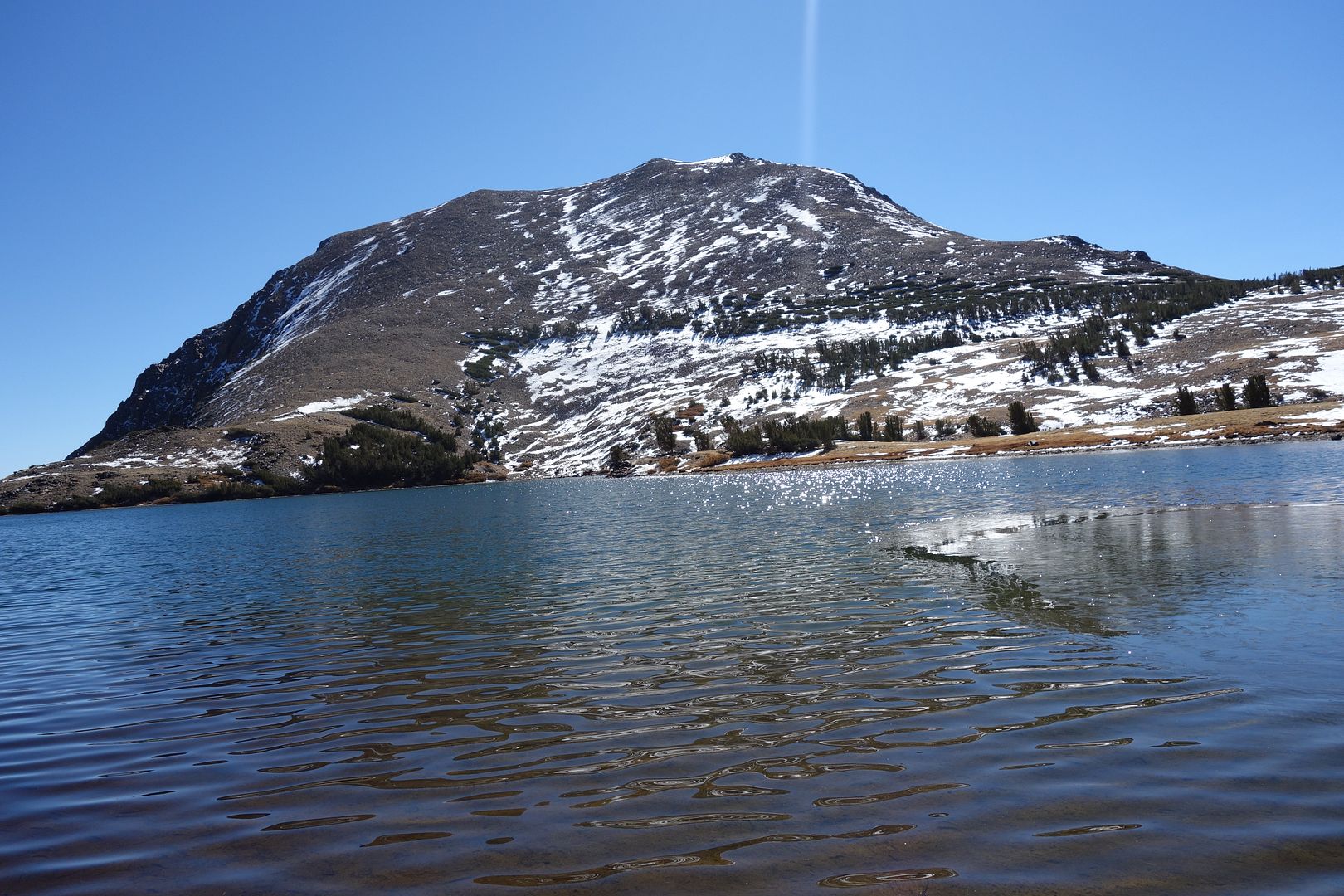 As I move around the lake I find a nice deep spot and the lake starts to warm up and fish are beginning to rise to feed. I switch back to my dry fly and sight fishing gets hot.
Brookie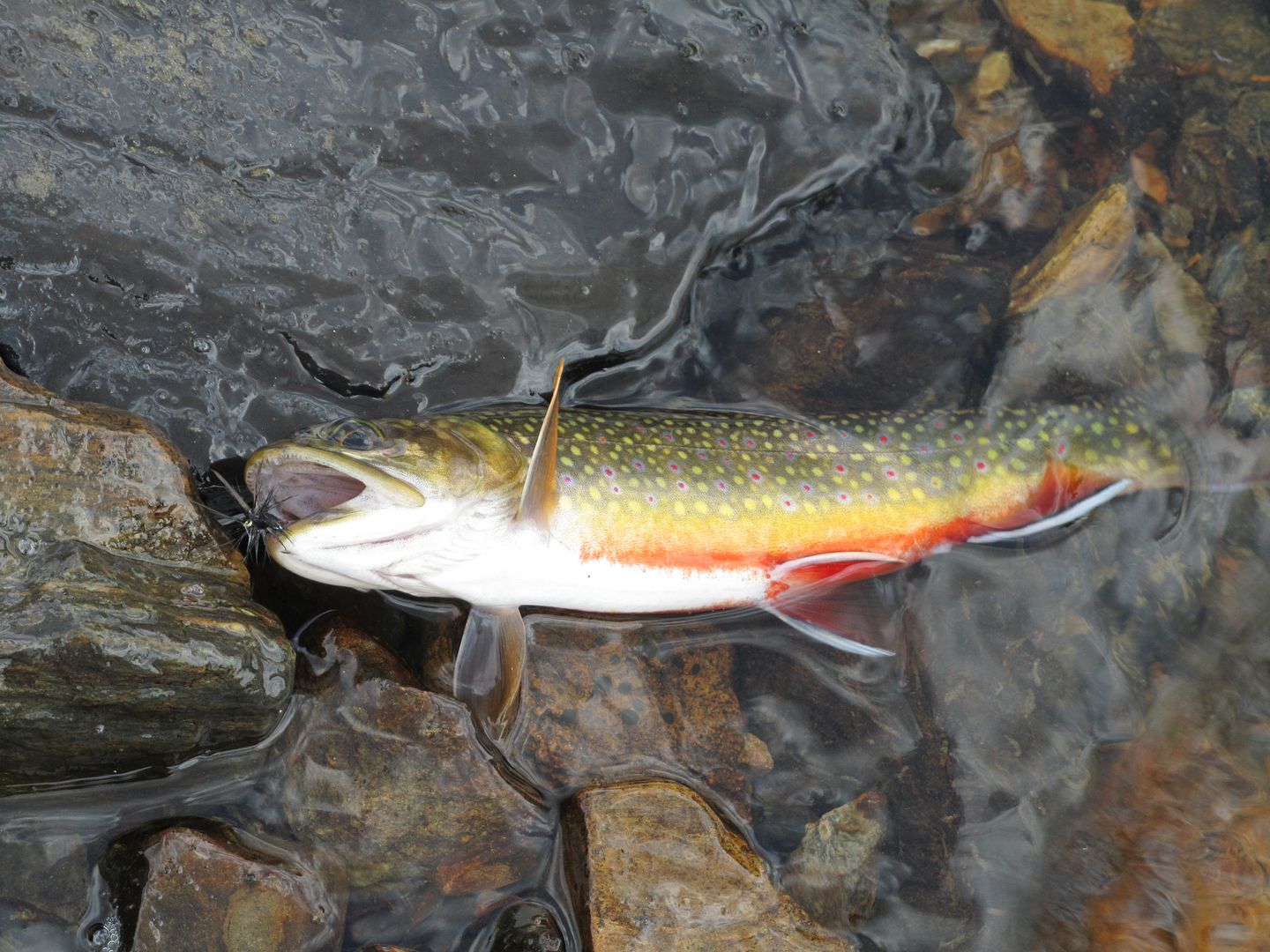 I've caught Brookies up to 14" here in the past, but the average today is about 10' up to 12". But they look pretty healthy this year, not stunted as in prior years. A welcome change! Fishing is good today.
Brookie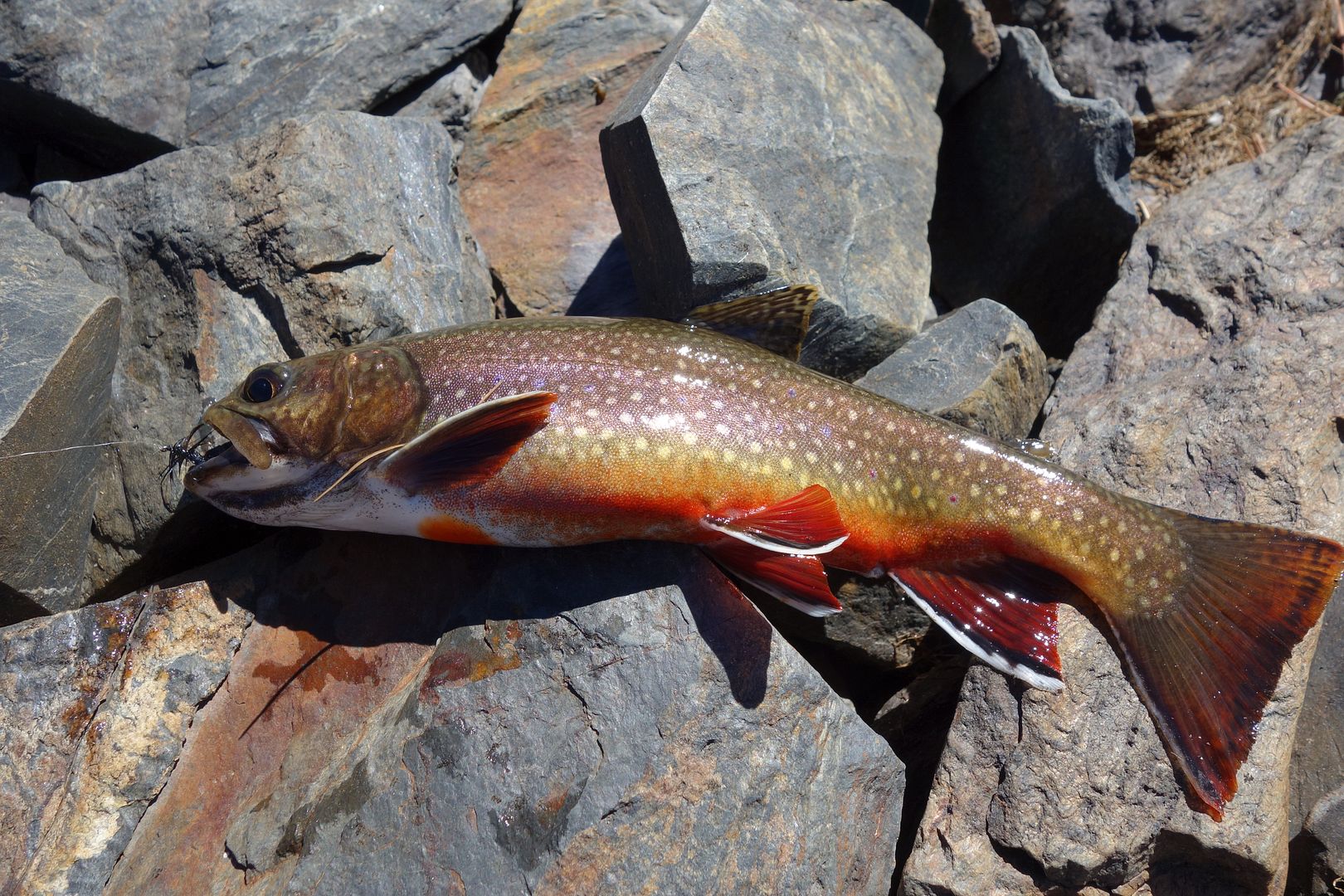 Brookie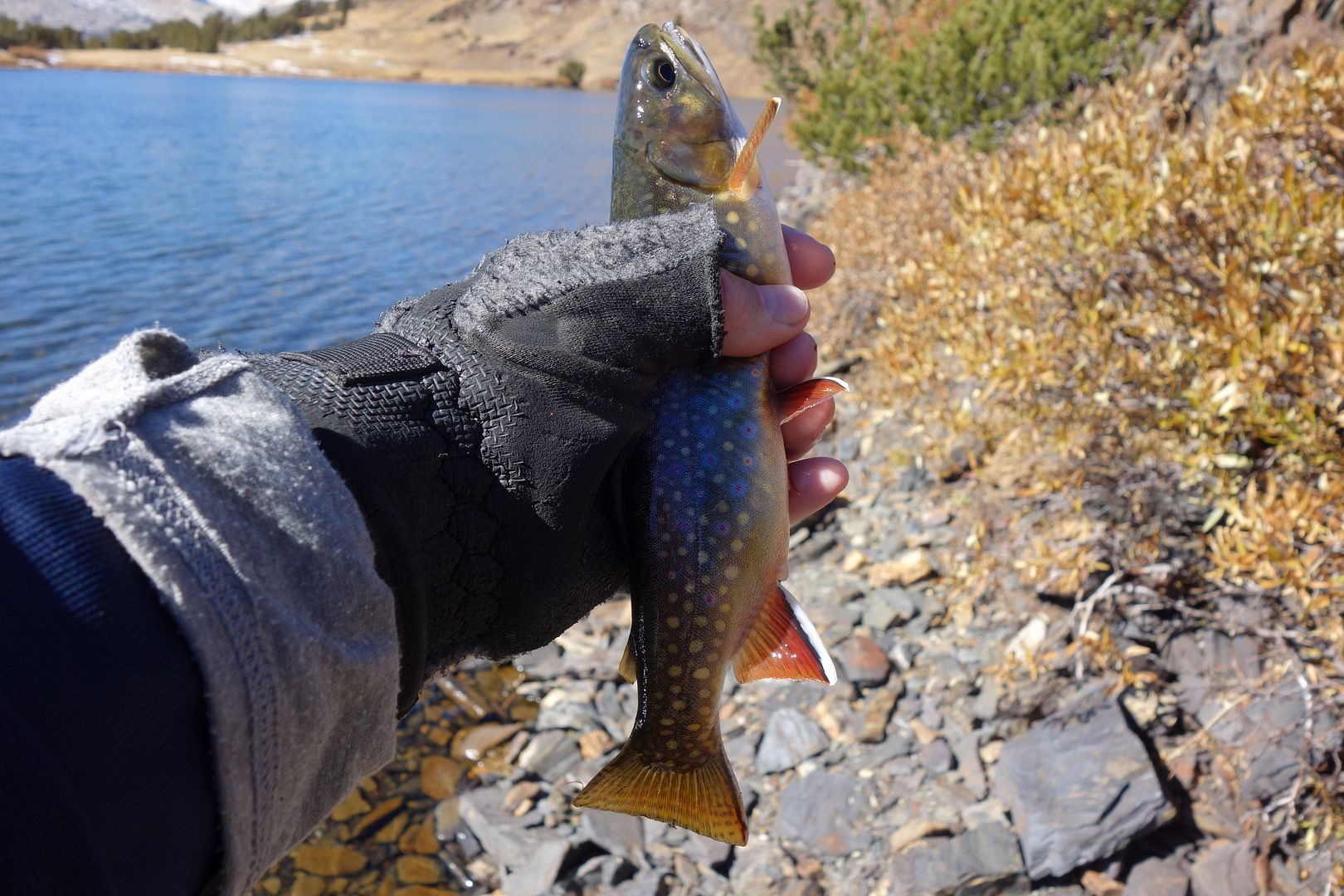 Brookie
The group that was having a picnic earlier comes by and asks if I know how to reach the Tioga Crest. I show them the best rout up and what's to see once they're up there if they wish. This always happens to me, it's like I have a sign on my saying "Tour Guide". But I don't really mine as they are good people.
Fishing continues to be good as I bring in one after another of the fat brookies.
Brookie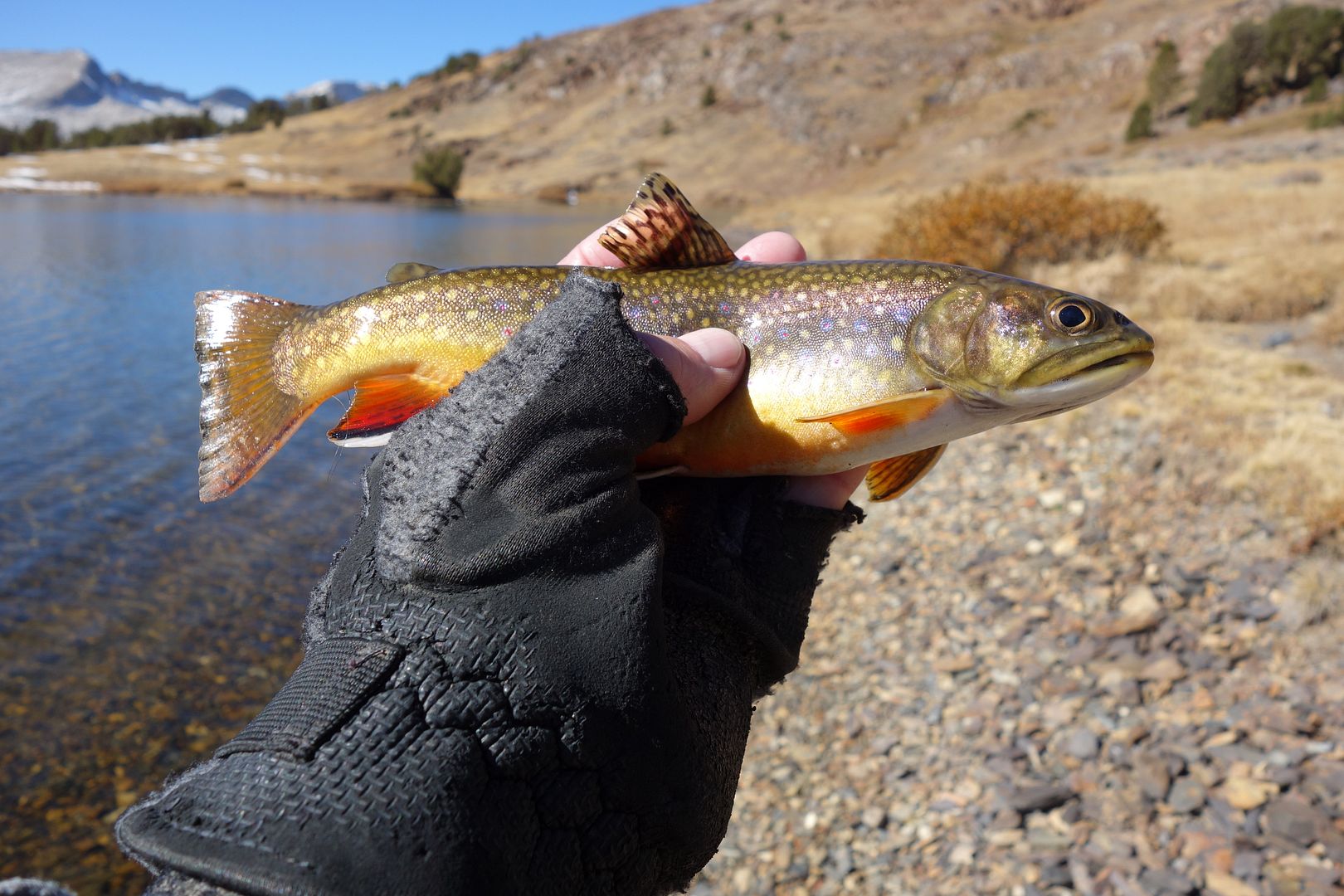 Brookie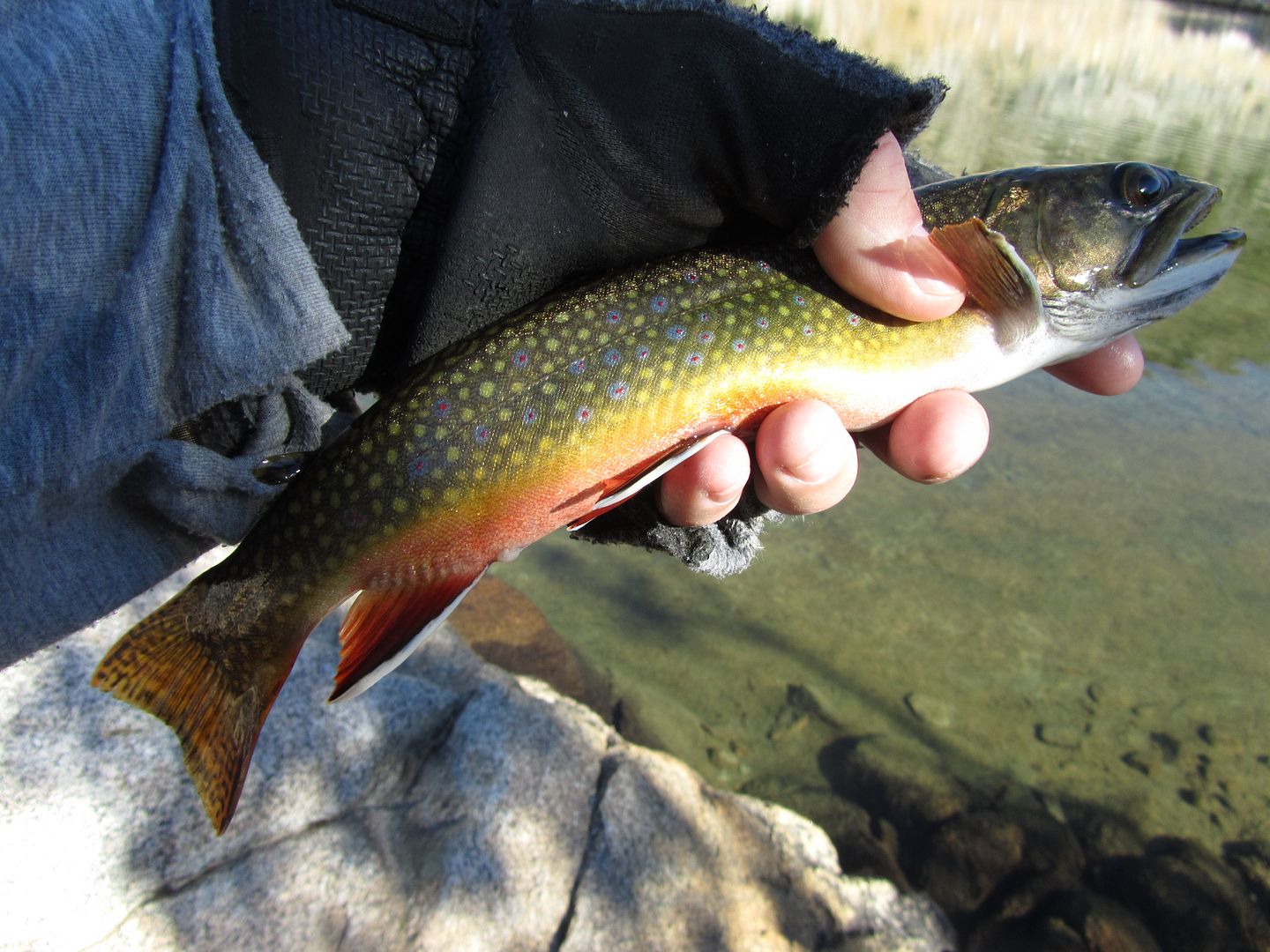 The scenery is top notch. Take advantage of the awe-inspiring views of the spectacular peaks as you leave and head back toward the trailhead.
Views on the way back
This is my last day of my vacation and I always end it here as I have many good memories of me and my dad fishing here. When I reached the bottom to the trailhead, I found no other cars left in the parking lot. Just like me and my dad, we were always the last ones to leave. Tradition is hard to break.